Kurser
Sacred Arts Camp 2019 – International Dance & Voice Camp – ENGLAND
fre 24 maj - lör 1 juni 2019
Stort familjevänligt dansläger i England
Mer info:
Plats:
ENGLAND
Simple Presence – The Way of Inner Clarity and Love – Hamburg, TYSKLAND
lör 25 - sön 26 maj 2019
FOKUS Dans, sång och meditationer utifrån Jesus or på arameiska.
Simple Presence, Movement and Silence:
The Way of Inner Clarity and Love of the Aramaic Jesus
In English and German
This retreat will share chant, movement and meditation from the Aramaic words of Jesus following his teachings and stories in the Gospel of John, including the "I Am" sayings. Viewed from Yeshua's native language, these sayings present a way of connection to clear inner guidance and deep love.
They are an interconnected path for practical life in attunement to our deepest self as well the prophets and teachers who precede us in creation's caravan.
We will intersperse the more active body prayer of the Dances of Universal Peace with longer sitting meditation in order to deepen in the experience of Yeshua's spirituality.
https://abwoon.org/events/hamburg-germany/
Kursledare:
Dr. Neil Douglas-Klotz
Plats:
Kirche der Stille, Hamburg, TYSKLAND
Vägbeskrivning:
Centralt i Hamburg, en fantastisk liten kyrka som är ombyggd för att på bästa sätt omfamna dans och meditation. Tågresa rekommenderas!
Tongues of Flame: The Flow of Love and Light of the Aramaic Jesus, HOLLAND –
fre 7 - sön 9 juni 2019
FOKUS: Sång, dans och bön utifrån Jesus ord på arameiska
Chant, Movement and Contemplative Prayer with the Aramaic Jesus
After the event of Easter, Jesus' students experienced a rebirth of love and light in the celebration we call Pentecost. It enabled them to understand each person at the heart level, beyond language.
In the beautiful Lioba Benedictine monastery, we will return to some of Jesus' basic teachings and practices, as seen through his Aramaic language. We will re-visit many of the earlier chants and Dances of Universal Peace based on his sayings and experience them in a deeper way, alternating movement, chant and silent comtemplation. Through these pathways, we can also experience the "tongues of flame" that Yeshua left in his wake, in our hearts and minds.
This is a healing journey that takes us to deepest part of ourselves and then resurrects us in power and joy. Whether or not you have joined in these Aramaic retreats previously, this is a wonderful doorway into Jesus' native spirituality and way of meditation.
Time: Friday dinner through Sunday lunch.
Registration and Information: Saki Lee lightsong@gmail.com
Kursledare:
Dr. Neil Douglas-Klotz
Plats:
Lioba Monastery, HOLLAND
Vägbeskrivning:
Vid havet, nordväst om Amsterdam.
Dancing Heart Camp i LETTLAND – LETTLAND
lör 27 juli - fre 2 augusti 2019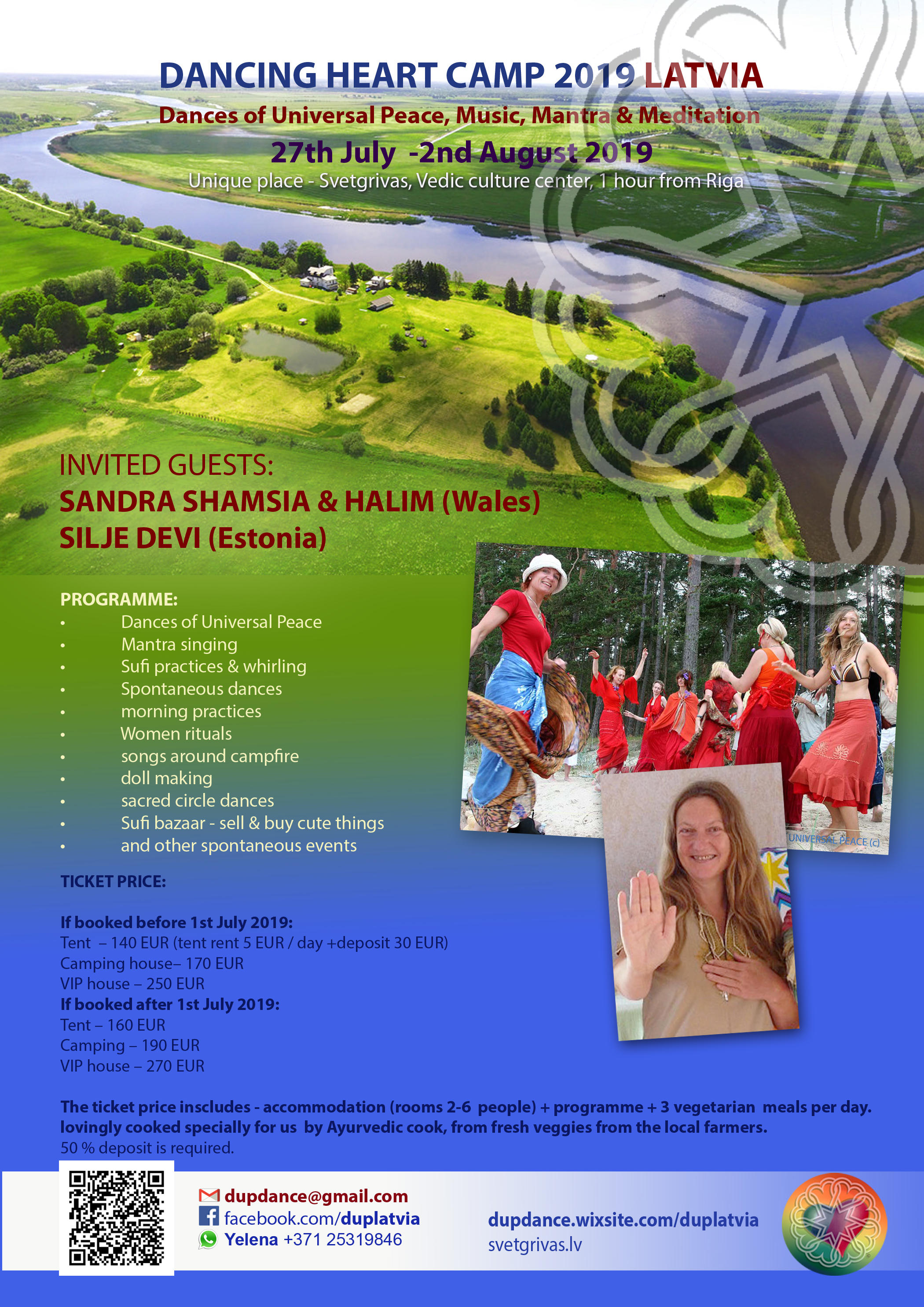 Boka in den fina dansveckan i Lettland 2019!
Gästlärare bl.a. från England och Estland.
Som vanligt fyllt schema från morgon till kväll – framförallt med Universella Fredsdanser men även andra danssessioner i cirkeldans, fri dans, dervishdans, mantrasång och mycket mer. Familjärt och innerligt litet dansläger fyllt av värme, gemenskap och massa kärlek och kramar.
2018 var vi ett gäng som åkte över från Sverige (lätt att ta färjan över natten från Stockholm till Riga), så varmt välkommen sommaren 2019, du som varit med förut och du som vill utforska vad denna vecka har att ge dig.
I år dansar vi invid en flod där en kan bada. Ayurvediskt kök, mmmmm.
Uppdaterad info kommer allt eftersom.
Plats:
LETTLAND
The Beautiful Names of Life, FRANKRIKE – Point-Soleil, Södra Frankrike
tor 19 - sön 22 september 2019
FOKUS: Traditioner från Mellanöstern, bibliska profeter, de gamla gudinnetraditionerna, den arameiska Jesus och sufierna.
Dances of Universal Peace, walking meditation, contemplation, chant, spiritual practice, body awareness and teaching stories from the world's rich treasure chest of wisdom.
Life presents us with many faces of blessing and unripeness, with challenge and opportunity. How do we witness it all from a heartfelt place, discovering in the many signs of life the activity of one Heart, one Beloved?
This retreat will especially explore practices from the traditions of the Middle East, from the biblical prophets, the ancient Goddess traditions, the Aramaic Jesus and the Sufis.
Neil will draw practice and teaching from all of his published work, including The Little Book of Sufi Stories and his new series of books editing the lesser-known mystical writings of Kahlil Gibran. Saturday evening will feature Sufi zikr and stories.
Contact: Dominique Boyer dommb1@gmail.com
Kursledare:
Dr. Neil Douglas-Klotz
Plats:
Point-Soleil, Södra Frankrike
Vägbeskrivning:
Point-Soleil Retreat Centre, France
https://www.point-soleil.com/
Strax norr om Andorra, söder om Toulouse